Roger Reece
motivational speaker, trainer & facilitator
Roger Reece is a dynamic motivational speaker, trainer and seminar leader with over 35 years of speaking and business management experience.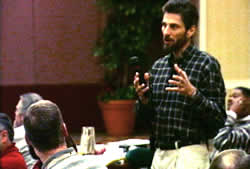 Prior to starting Roger Reece Seminars in 1998, Roger Reece held executive-level positions with three successive corporations over a 25-year period. His Director and Vice President roles included Sales, Marketing, Product Management, Product Development and Business Development. Roger holds an MBA from Emory University.
In addition to his motivational speaking and training, Roger is a management consultant who offers coaching services for managers and executives.
Roger's extensive experience in motivational speaking, training and business management are evident to anyone who attends his training seminars. He packs every training program with personal stories, anecdotes, case studies and simulations, adding an extra dimension of reality to the concepts and techniques he teaches.
Training can often be a dry and tedious process, but Roger's interactive and humorous speaking style captures the attention and interest of everyone in the room. Innovative-but-practical ideas, customized workbooks, group discussions and creative exercises immerse each participant in a fun and challenging learning experience. Even after the seminar is over, the concepts continue to serve as catalysts for change, through the useful tools and techniques provided during the program.
Roger has spoken for hundreds of businesses, groups and trade associations, and has written on a wide range of subjects for a number of magazines and online publications. His extensive business and management experience, combined with his dynamic and entertaining speaking style, make him a popular choice for motivational keynotes, training seminars and team-building programs throughout the U.S. and Canada.
Please Visit Our Websites

Manufacturing/Distribution:

Boeing
General Electric
DuPont
SYSCO Corporation
AJC International
Johnson & Johnson
General Dynamics
R J Reynolds
Textron, Inc.
American Greetings
Lisi Aerospace
Ventana Medical Systems
Sakura Finetek
Amerada Hess Corporation
Smurfit-Stone Container Corporation
Smiths Aerospace
Ethicon Inc.
Boston Beer
AquaShield, Inc.
Gemini Coatings
EPCOS
Aggreko
Metso Minerals
Mervis Industries
US Bolt Manufacturing, Inc.
Aquascape Designs
Tiger Corporation
Rayco Manufacturing Inc.
Maurice Sporting Goods
Mead Johnson Nutritionals
Dowty Propellers,Ltd.
F Gaviña & Sons, Inc.
Tate & Lyle PLC
Valmont Industries
Danville Metal Stamping Co.
Kautex North America
B.J. Alan Company
Wausau Supply Company
St. Croix Forge
Triton Corporation
Pacific Window Films
Hanwha L&C
Wenger Corporation
Wahoo Docks

Technology/Communications:

IBM
AT&T
Qualcomm, Inc
McAfee, Inc
Hitachi, Ltd.
Science Applications International Corp.
Scientific Games Corporation
Comtech Systems
Phytec America
Integra Business Systems
CommVault Systems, Inc.
Spectral Response, Inc.
Norlight Telecommunications
Bluegrass Cellular
TEKsystems, Inc.
VersionOne Inc.
Sage Group PLC
Concurrent Computer Corp.
iOnosphere, Inc.
Itronics
QC Metrix
Open Solutions, Inc
Via Networks
MediaWorks
Distribution Control Systems Inc.
Syntellect Inc.
Forest Express LLC

Retail/Distribution:

Safeway Inc.
Limited Too
National Business Supply, Inc.
InterTan Canada Ltd.
Warehouse Equipment Corp
Margaritaville Spirits
Guardian Pharmacy, LLC
Wildco Petroleum Equipment Corp.
Circuit City Stores, Inc.
Pacific Window Films
Farmers Home Furniture
Phantom Fireworks

Energy / Oil & Gas:

ExxonMobil
Southern California Edison
Sunoco
Entergy
Wood Group PLC
Premcor Inc.
Hess Corporation
Georgia EMC

Pharmaceuticals:

Akros Pharma, Inc.
Endo Pharmaceuticals
Wyeth Pharmaceuticals
AllergyZone, LLC

Financial Services/Insurance:

Equifax
Countrywide Financial Corp.
D.E. Shaw Group
GV Financial
iStar Financial
Financial Resources Federal Credit Union
Mid-States Corporate Federal Credit Union
First Entertainment Credit Union
TIC Federal Credit Union
Associated Credit Union
CSRA Federal Credit Union
PA Credit Union Association
AG Georgia Farm Credit, ACA
Concord EFS
BB&T Corporation
Appalachian Community Bank
Iowa State Bank & Trust Co.
Jones Lang LaSalle
WRIT
Maze & Associates CPAs
BlueCross BlueShield of South Carolina
Anthem BlueCross BlueShield
Palmetto GBA
Liberty Mutual Insurance
American Family Insurance
Alfa Insurance
Uni-Bank Association
Diverse American Mortgage

Health Care:

UHS-Pruitt Corp
Advocate Health Care
IntegrisHealth
St. Joseph Healthcare Foundation (NY)
St. Joseph's Hospital of Atlanta
St. Cloud Hospital (MN)
Memorial Hospital (PA)
Bartlett Regional Hospital (AK)
Professional Healthcare Institute of America
Nexion Health Management, Inc.
Gwinnett Medical System
CSI Laboratories
UniHealth Solutions Inc.
Palmetto GBA
Carle Clinic Association
CryoLife, Inc.
Clark-Lindsey Village
Academy of American Surgical Nurses
Roosevelt Institute for Rehabilitation
US Centers for Disease Control & Prevention (CDC)
National Institutes of Health (NIH)
US Centers for Medicare & Medicaid Svcs
VA Medical Centers
US Center for Veterinary Medicine
Professional Pediatrics Group (AL)
Pathology Services Assoc.
Pathology Consultants of New Mexico
Grossman & Smith Dental Offices
Brantley Chiropractic
Family Allergy & Asthma
Columbus Regional Dental Society
Infusion Nurses Society
Western New York State Disease Control Organization
KY Medical Group Management Assn
AL Radiology Managers Assn
GA Assn of Radiologic Technologists
Alabama Rehabilitation Assn
Alabama Assn of Rehabilitation Facilities
National Rehabilitation Assn
SC Hospital Association
South Carolina Society for Hospital Materials Mgmt
Healthcare Financial Management Assn
Medical Group Management Assn
American Academy of Orthopaedic Surgeons

Service Providers:

ADT Security Services, Inc.
RH Donnelley
Tradebank International, Inc.
Strategic Comp
WhatCounts, Inc.
Vitalize Consulting Solutions
Laptop & Desktop Repair LLC
Kamm Consulting
Atlanta Airline Terminal Corp.
Bayforce Technology Solutions
Sentinel Offender Services
NORESCO
B3 Solutions, LLC
International Shipping Partners, Inc.
Michael Baker Corp
TSS Photography
AFG Group
Scientific Consulting Group, Inc.
The Structure Group
Central Refrigerated Services, Inc
Training Resource Network, Inc.
Atlanta Athletic Club
Integrated Energy Services
WATG (Architecture)
D.P. Associates, Inc.
Satellite Services Inc.
Edlen Electrical Exhibition Services
Strimbu Trucking
Network Communications Inc.

Government:

NASA
US Dept. of Treasury
Federal Reserve Bank
US Environmental Protection Agency
US Army
US Air Force
US Navy
USDA Farm Service Agency
US Food and Drug Administration
US Forest Service
US Department of Transportation
US Job Corps
US Bankruptcy Court
US Trustee Program
UD Department of Justice
US Court Services & Offender Supervision Agency
US Dept of Health & Human Services
US Social Security Administration
National Institutes of Health
National Science Foundation
US Centers for Disease Control & Prevention
US Center for Veterinary Medicine
US Dept of Veterans Affairs
US Office of the Comptroller of the Currency
Internal Revenue Service
Centers for Medicare & Medicaid
GA Bureau of Investigation
GA Dept of Human Resources
GA Division of Public Health
NE GA Housing Authority
KY Lottery Corporation
VT Lottery Commission
Tennessee Education Lottery Corporation
GA Dept of Early Care & Learning
ND Social Welfare
PA Dept of Aging
LA Farm Bureau Federation
GA Department of Corrections
GA State Board of Pardons and Paroles
IL Department of Corrections
FL Department of Juvenile Justice
WV Bureau for Child Support Enforcement
Whitfield County (GA) Juvenile Court
Opelika (AL) Housing Authority
Manatee County (FL) Dept of Transportation
Lake County (FL) Dept of Public Works
Del Norte County (CA)
City of Baltimore
City of Atlanta
City of Gilroy (CA)
City of Fontana (CA)
International Military Community Executives Assn
CA County Info Systems Directors' Assn
Municipal Info Systems Assn of CA
Southern States Correctional Assn
Parole Assn of GA
GA Prison Wardens' Assn
Lanark County (ON)
Saskatchewan Assessment Management Agency

Education:

Penn State University
University of Mississippi
University of Houston
Emory University
Davidson College
Rollins College
Brenau University
Wake Forest University
Del Mar College
Ohio Institute of Photography & Technology
Professional Healthcare Institute of America
Wyoming Technical Institute
Tri-County Technical College
Ogeechee Technical College
Kaplan Higher Education Corp.
KIPP College Preparatory Schools
State of FL Department of Education
IL State Board of Education
Hernando County (FL) School Board
Gilmer County (GA) School District
Union County (GA) School District
Thomaston-Upson (GA) School District
Forney (TX) Independent School District
Crandall (TX) Independent School District
Terrell (TX) Independent School District
Kemp (TX) Independent School District
Canton (TX) Independent School District
Wills Point (TX)Independent School District
Kaufman (TX) Independent School District
Red Clay (DE) Consolidated School District
Russell County (AL) School District
Piedmont (AL) City Schools
Bolivar-Richburg (NY) School District
Danville (IL) School District
Head Start Family Resources Agency
American Society for Training & Development
West Coast (FL) Educators' Council
School Transportation Supervisors of NJ
GA Assn of School Business Officials
Ohio Assn. of College and University Business Officers
CUPA (College & Univ. Professional Assn. For Human Resources
Council for Leaders in Alabama Schools
Southern Association of Student Financial Aid Administrators
Campus Computer Resellers Alliance
Alabama Community Education Assn
National Assn of College Stores

Building Materials/Construction :

Drees Homes
Sepulveda Building Materials
Wausau Supply Company
Ballard Truss
Expedition Log Homes

Real Estate/Property Management:

RE/MAX International, Inc.
Solid Source Realty
REALTOR Assn of Greater Fort Lauderdale
Women's Council of REALTORS
GA Assn of REALTORS
Weinstein Properties
Washington Real Estate Investment Trust

Hospitality/Food & Beverage:

Best Western International
The Dow Hotel Company
The Otesaga Resort Hotel
Someplaces Different Distinctive Inns
R & R Resorts
Pura Vida USA
Okemo Mountain Resort
Mount Sunapee Resort
Sodexho USA
Sunshine Catering
Valley Services, Inc.

Associations:

Society of Association Executives
Society for Human Resource Management
AARP (American Assn of Retired Persons)
International Management Assn
Louisiana Travel Promotion Association
Oregon State Bowling Proprietors' Assn
Atlanta Print Production Assn
National Speakers Association
American Society for Training & Development
SC Workers Comp Education Assn
PA Statewide Adoption Permanency Network
PA Credit Union Association
Bowling Proprietors Association of America
American Poolplayers Association
PA State Foster Parents Association
Alabama Court Reporters Association
Ohio Court Reporters Association
National Contract Managers Assoc
WA Assn of Maintenance & Operations Administrators
Birmingham Traffic & Transportation Club
Concrete & Aggregates Assn of Louisiana
Moultrie, GA Chamber of Commerce
Statesboro, GA Chamber of Commerce
Meigs County, TN Chamber of Commerce
West Alabama Chamber of Commerce
Albertville, AL Chamber of Commerce
Michigan Assn of Student Financial Services Administrators
Southern Association of Student Financial Aid Administrators
Delta Kappa Gamma Society International

Family Services :

Planned Parenthood
Family Focus, Inc.
North Dakota Social Welfare
Indiana Child Support Alliance
Michigan Family Support Council
Family Service Agency of North GA
Diakon Lutheran Social Ministries
Biidaaban Healing Lodge
Kinosao Sipi Minisowin Agency

Other:

UNICEF
The Economist Group
Moose International
Lions International
Atlanta Athletic Club
Clark-Lindsey Village
NewBirth Cathedral
United Food & Commercial Workers Union
Posey County (IN) Co-op
Ojibways of the Pic River First Nation
Aircraft Mechanics Fraternal Organization
United Food & Commercial Workers Union