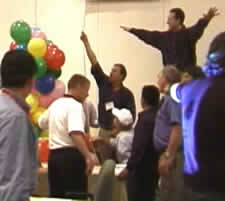 Our team-building seminars are designed to foster a spirit of teamwork and to help individuals work more effectively as members of a group. The fun and challenging team-building exercises are great morale builders, and set up the whole group for gaining new insights into team dynamics. Each seminar is tailored to the specific needs and objectives of the group, and can include modules on:
Team membership styles
Identifying and clarifying team roles
Shared goals, shared values and interdependence
Problem-solving and decision-making within teams
Intra-group and inter-group conflict resolution
Inter-group cooperation and support
Your objective may be simply to engage your group in fun team-building activities, for the sake of socializing and having fun. Roger Reece is an expert at designing the right program to achieve the desired results.
Visit our Team Building Workshops website for more information.