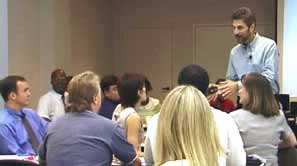 Seminar Topics:
The value of people, relationships and teamwork
The importance of staying centered
Why people become difficult
How masters of martial arts deal with difficult people
The worst things to do when you are attacked
Effective strategies for handling attackers
Dealing with your emotions and unconscious reactions
Strategies for dealing with:

Jokes, jabs and sarcasm
Yelling, hostility, anger and verbal abuse
Threats and personal attacks
Lies, deception, deceit and hidden agendas
Envy, jealousy, gossip, rumors and back-stabbing
Whining and complaining
Laziness, apathy, cynicism and unwillingness to work
Stealing and sabotage
Unfair criticism, blaming, perfectionism and nit-picking
Rudeness and inappropriate remarks
Obnoxious, unacceptable and unreasonable behavior

What to do when all else fails
When your boss is the difficult person you have to deal with
Behaviors that encourage and discourage difficult behavior in others
Being proactive, not reactive
You only have six bullets, so pick your shots carefully
Some people just don't get it
Identifying behavioral styles
Finding something positive in every difficult person
Mastering the art of self-management

This seminar will help participants identify positive strategies for dealing with difficult people at work and in their personal lives. Participants will learn to avoid fights, attacks and cold wars through healthy confrontation and actions aimed at building relationships and teamwork.
Please visit our Conflict Management Workshops website for related information.
Seminar Length: Two hours minimum. Full seminar: One full day.
Participants in this seminar
will learn:
To better understand the difficult people in their lives
To recognize when they fall into the negative reaction trap
How to identify the appropriate strategy for handling each difficult person
To become proactive in getting to the heart of conflict
How to diffuse attacks with positive intent
How to focus on the best aspects of each person
How to turn enemies into allies
How to avoid being the difficult person someone else has to deal with
Who should attend this seminar?
Executive teams
Managers
Employees at all levels
The seminar can be customized to meet the requirements and the skill level of your group.